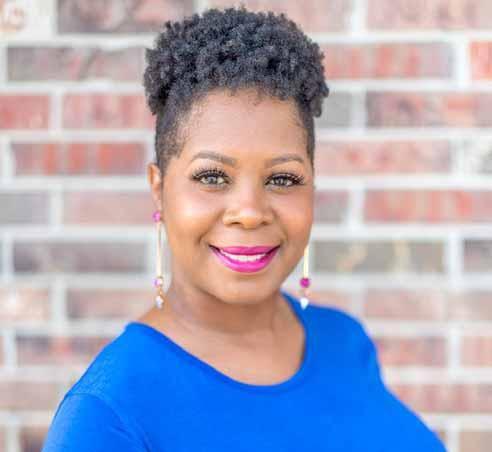 Title: Owner/creative director
Company Name: WORKish Coworking and Business Lounge; owner and chief paper girl at Once Upon A Paper
Family Information: Husband, Byron Randon (also my high school sweetheart); children: Caitlin, 21; Byron II, 16; Kaya, 14.
What path led you to your chosen profession? Was it well-planned or a happy accident?
One day, out of frustration, I created a list of all my business needs, struggles, experiences, etc. I created a Facebook post asking others the same questions. I realized the need was great, and we are better together.
What trade, professional and civic organizations do you belong to? Founder and president of the Dream Society 501(c)3; founder, Boss Babes of Brazoria County; board member, PencilPaperPen.org.
What volunteer or civic achievement is most important to you? What is most important to me is directly working with individuals to make them better. I enjoy and am very passionate about working with girls of all ages.
What career achievement are you most proud of? I'm most proud of the talent God has blessed me with to create, plan, share — and build a community of followers and supporters. Also, my designs being featured on Great Day Houston.
What personal achievement are you most proud of? I'm most proud of myself any time I fall/fail — and I get back up. I can list a few personal achievements, but without resilience, I would have quit a long time ago.
What are your career aspirations? To help others along the way. It may be absurd to say, but my career aspirations are simply to inspire others, through my accomplishments and mistakes, to believe in their dreams/goals to be successful business owners.
What leader has inspired you and how? Former first lady Michelle Obama has inspired me. She is strong in her beliefs and the social causes she supports. Most importantly, she is relateable and graceful.
What are three attributes that leader has that you admire? Former first lady Michelle Obama is compassionate, has strong character and possesses the art of perseverance.
What is a quote or motto that you live by in your professional or personal life? "Be Too You" — Devin. "Let all that you do be done in love." 1 Corinthians 16:18
What are your hobbies? According to my husband, Hobby Lobby! While that may be true, I enjoy writing, making others smile, taking pictures and cooking, when time allows.
What is a guilty pleasure others might be surprised to learn that you enjoy? Wearing my PJs all day, dancing like no one is watching, giving gifts and blessing others.
FAVORITES:
Book? "I know why the Caged Bird Sings" by Maya Angelou; "The Four Agreements " by Don Miguel Ruiz
Movie? "The Wood," "Simon Birch," "Boyz in teh Hood," "Parent Trap," "The Goonies" — can't pick one
TV show? "Being Mary Jane," "Cupcake Wars," "Greenleaf"
Music genre/performer? DJ Screw, Lionel Richie, gospel, TLC
Sports team(s)? Any team my children are on! Houston Rockets, Sweeny Bulldogs
Any other information you would like to include? The only other thing I would like to share is that I'm not about having a title. Every single person has the ability to change the world one person at a time. In everything, that should be your goal in life.