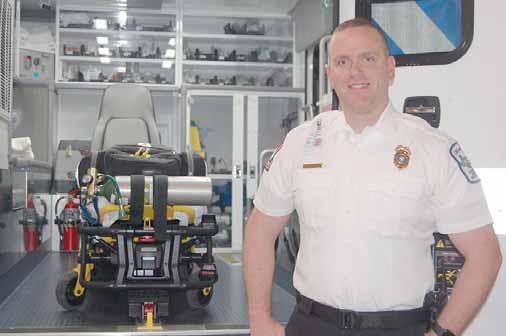 Title: EMS Chief
Company name: Lake Jackson Emergency Medical Services
Birthday: April 18, 1988
What path led you to your chosen profession? Was it well-planned or a happy accident?: EMS was definitely a "happy accident." With my original goal being nursing-based, that slowly transitioned toward law enforcement. After working for several years as an emergency room technician, I was convinced to ride along with LJEMS and fell in love immediately.
What trade, professional and civic organizations do you belong to?: While I do not serve on any formal boards or committees, I have been involved with the National Association of EMTs (NAEMT), participated in the Governor's EMS Trauma Advisory Council (GETAC) and have been heavily involved in the Texas Emergency Medical Task Force (EMTF) program.
What volunteer or civic achievement is most important to you?: Prior to my current position, I assisted with Meals on Wheels, the LJPD Blue Santa Program, Rotary Shrimp Boil, Habitat for Humanity and I'm sure many others. My current volunteer commitment has been to the Lake Jackson Police Department as one of our seven reserve (volunteer) police officers.
What career achievement are you most proud of?: From having the opportunity to lecture at the state EMS conference, deploying to multiple state disasters in a leadership capacity, or promoting to my current position, I've been fortunate in many ways.
What personal achievement are you most proud of?: While my adult life has been mostly career-focused, my youth consisted of moving cross country. My ability to adapt and self-advance myself through studies and experiences has brought me to where I am today.
What are your career aspirations?: My goal is to continue to mold Lake Jackson EMS into the most progressive, professional and preferred place of employment for EMS providers in the Houston area. We will see what happens after that.
What leader has inspired you and how?: As an introvert, my inspirations mostly come through observation. Having worked alongside so many incredible leaders during my career, I take the best traits from them all and implement into my own practice.
What are three attributes that leader has that you admire?: Humble, motivated and most of all hard-working.
What is a quote or motto that you live by in your professional or personal life?: "Lead Without a Title." I find that my intrinsic desire to lead both on and off the job helps me (and others) to succeed.
What are your hobbies?: Honestly, my work is my hobby. But, aside from emergency services, I love to burn energy by going to the gym, playing racquetball, traveling or simply playing board games.
What is a guilty pleasure others might be surprised to learn that you enjoy?: Those who know me won't be surprised but definitely ice cream, cookies, or any type of junk food. (and the Dave Matthews Band).
Favorites book, movie, TV show, music genre, sports team?:
Book: Never been much of a novel reader, so anything educational or leadership based gets my
Movie: "The Hunger Games" and "The Green Mile"
TV show: "Survivor," "Ozark" and I'm a nerd for documentaries.
Music genre/performer: Dave Matthews Band, no surprise to most.
Sports team: I don't follow sports much, but I have to stick to my roots: Philadelphia Phillies and the Carolina Hurricanes.
Any other information you would like to include?: I always say that my success would not be possible without everyone I'm surrounded by. Additionally, LJEMS Asst. Chief Cade Bontekoe has been paramount to not only our agency's success, but also mine. Lastly, if there is a way Lake Jackson EMS can assist in community education, projects or other events, we'd be happy to help.
Do you have a postsecondary education? For all undergraduate degrees, include the institution, degree, year graduated and major.: My postsecondary journey began locally at Brazosport College working toward my degree in criminal justice and emergency medical services. I attended paramedic school at a training center in Deer Park and the police academy at the University of HoustonDowntown. I am actively working toward obtaining a bachelor's degree in emergency management.