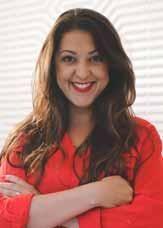 Title: Business Owner/Real Estate Agent/Investor
Company name: Mega Realty
Birthday: Aug. 12, 1992
Family information: Chandy Standard, fiance; Mom: Noeme Arceneaux (Know-Me Knows) Dad, Ross Arceneaux (Big Ross); and my sister, Madison Arceneaux, hairstylist.
What path led you to your chosen profession? Was it wellplanned or a happy accident?: Real estate is no mystery to me; from international to local residential real estate, all of the women in my family are involved in the industry. I have always enjoyed working with people and providing help to those who need it. While this career started as a happy accident, there's no doubt in my mind — this is what I am meant to do. In a business that can be from selling to designing homes, it is a passion like no other, and I cannot imagine doing anything else!
What trade, professional and civic organizations do you belong to?: Rotary, Brazoria County Board of Realtors, Houston Association of Realtors, Brazosport Chamber of Commerce, Angleton Chamber of Commerce.
What volunteer or civic achievement is most important to you?: One of my proudest volunteer achievements would have to be our efforts to the local SPCA and Warrior Refuge. This past year, Mega Realty was able to host and facilitate the adoption of over 52 animals during our Mega Adoption event for the local SPCA. Mega Realty also participated in the Warrior Refuge and raised over $5,000 to be donated for the reconstruction of new housing in efforts to support homeless Veterans in Brazoria County.
Being part of such an incredible community that allows me to continue my passion everyday makes it an easy yes any chance we get to give back. We participate heavily in youth sport sponsorships, local schools and the Natalie Woolsley Foundation yearly.
What career achievement are you most proud of?: The past seven years have been filled with goals and success, but one of my proudest moments to date was being voted favorite Realtor by readers of The Facts in 2019. I was caught by complete surprise and had no idea there was a contest being held until I received a phone call telling me I had won! I work with such talented and amazing people everyday and to win a title with such magnitude as a 26-year-old agent is a gratifying experience I will never forget and continues to motivate me daily.
What are your career aspirations?: Ultimately, I want to expand Mega Realty. Not only the brand itself, but the experience that comes with it. I have a few ideas up my sleeve, and while I can say with certainty that the future is bright for us, I believe in growth in silence. Stay tuned!
What leader has inspired you and how?:
I've been fortunate enough to come across a multitude of leaders throughout my life, all of which have made an impact on my life in one way or another, starting with my parents. From youth to now, they've motivated and encouraged me to strive for success and kept me on the right path to do so. My brokers, John Cotten and Samantha Mitchell, you both saw something in me and gave me the tools and resources to keep my focus and grow this business to be the success it is today.
What is a quote or motto that you live by in your professional or personal life?:-
I've got several that come across my mind, such as "If you're living in comfort you are not growing" and "We have the power to create our future." But ultimately my favorite would have been from my Mimi. She told me, "No matter what, there will always be an opportunity around the corner. Make sure to keep your head up and always dress for success so it doesn't pass you by." I treasure those words, and do my best to live by them.
What are your hobbies?: I enjoy tending to my plants, visiting with friends and family, and experiencing new restaurants. I tend to always be brainstorming and creating new ideas that will not only better myself, but my career and community.
Any other information you would like to include?:
For starters, I graduated from Brazosport High School in December 2009. My parents told me once I graduated I was free to move to Austin, and that's exactly what I did! While in Austin I met great people and stumbled across some pretty amazing opportunities, one of which being my encounter with John and Samantha, my brokers. They saw something in me that most people didn't and decided to roll the dice and take a chance on me and started my real estate career.
After a little time in Austin, I decided it was time to come home to Brazoria County, and lucky for me John and Samantha decided they would follow — thus the beginning of TCP Real Estate in Brazoria County. After a successful fiveyear run, we regrouped and decided it was time to shake it up, and make a Mega Move. We rebranded and in April 2020, Mega Realty was born.
Starting a business can be nerve-wracking in itself, but try adding in the COVID crisis and the world shutting down! However, with a strong team at hand, we held it together and pulled through and in one short year, Mega Realty not only made it to the other side of a pandemic, but we are now one of the top-producing agencies in Brazoria County. To say I am humbled would be an understatement. I am surrounded by a team of dedicated, innovative, hard-working professionals who pulled together in a time of uncertainty and made this company the success that it is today. When the world grew grim, we all grew closer and never gave up.
The trust this team puts in my leadership is what makes it all a success. We have to risk to gain, and be willing to try and potentially fail. This is what keeps us ahead of the curve and will continue to keep us striving for the top.